6 Components of a Modern Bedroom Design
The bedroom is one's private sanctuary after a busy day. A modern bedroom designed to suit your preferences energizes and recharges you. 
Nowadays, modern bedroom design is a choice for many for its luxurious look and yet brings comfort and a welcoming feel. This sought-after style has high-quality materials that exude coziness and a customized sense. 
As the most personal room in your home, pick a well-chosen quality bed and bedroom accessories. Keep the look polished with rich materials and classy textiles. 
However, choosing furniture and decor could be confusing with all available options. How do you pick the items to achieve a more balanced and harmonious modern bedroom?  
Do not worry, as we have found the answer for you. This article share insight on achieving a modern bedroom design.
Form Follows Function
Modern architects' and designers' favorite mantra is "form follows function." The focus is on how the furniture delivers in terms of functionality.
A piece of furniture is designed in a certain way to perform a specific function. The design style becomes user-friendly, but with the modern look of clean lines and simple decor.  
Regarding the bedroom, the furniture choices should be functional, and the aesthetics follow. Each piece of furniture brings its characteristics and, when put together, forms a cohesive look that makes the bedroom a comfortable and relaxing space. 
The furniture's function, however, does not limit the modern bedroom design to not reflecting beauty. One can still choose furniture and accessories that meet functional requirements and still have a stylish and classy design through the materials used textiles and color scheme. 
Tips for a Beautiful Modern Bedroom
To follow the form follows function mantra, your bedroom can deliver its function as a relaxing space with specially chosen items. 
Here are the design tips for choosing well-made items that are functional, long-lasting, and call for relaxation.
1. Design for Comfort
Make your bedroom cozy and a welcoming place. Pick the pieces that will make you want to relax in the room or just recharge.
The focal point of a bedroom is the bed, which should be comfortable and aesthetically pleasing. Enjoying quality sleep does not mean you need to stay in a fancy hotel; instead, sleep in luxury and comfort in your room.
Keep in mind the functionality of your bedroom when choosing the size and look of the bed. The size should be proportionate to the room space, and its finish and upholstery must blend well with your chosen bedroom color scheme. 
Modern bedrooms have platform beds with a sleek and straightforward design widely used for this style.  It veers from the traditional bed look with its simple, low-to-the-ground bed frames supported by elegant legs. 
Furnitalia offers a variety of finish, look, and textile for its platform beds to achieve a modern bedroom design. Choose from their luxury brands offering a simple but stylish look for modern bedroom furniture.
The Anton double bed is a well-thought-of design by Vincent Van Duysen that blends in well with a modern bedroom design. This elegantly appealing bed has an upholstered headboard and platform with pewter feet.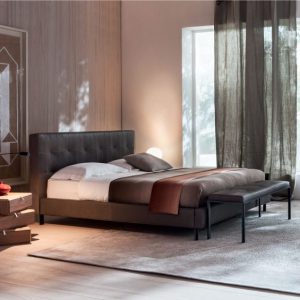 Finding yourself sleeping in a luxurious bed such as Anton's makes the expense worth it.  The design has a fully removable upholstery in rich leather or textile. 
The headboard has a revised modern look for its capitoné stitching to create a dreamy and soft look for the bed.
2. Use Neutral Colors
Since modern design calls for neutral colors, the bedroom's color scheme is not limited. Black, white, and gray hues are the standard color palette for modern-designed rooms. Earthy tones such as brown, beige, cream, and taupe are hues that also provide a cozy backdrop for a modern space.
Neutral tones make a room serene, perfect for a relaxing bedroom. Mix complementing hues to create a modern design style for a bedroom. 
Choose the paint color for the room before decorating the room. The paint choice helps determine which furniture color or material will go well in the room. In doing so, you will choose pieces you love and not just match the rug or the bed.
A no-fail color scheme that creates a dynamic space is the black-and-white combination. Use white or light-colored gray for the wall to emphasize the darker-colored bed and nightstand. 
On the other hand, muted gray furniture against striking black walls is impressive yet subtle with its simple lines and curves. 
Giorgetti's Rea bed is an excellent example of a neutral-colored bed not imposing against a black backdrop. Its winged-shaped headboard, leather frame, and feet in metal and solid Pau Ferro complete the look of a minimalist bed.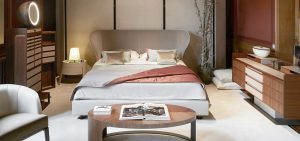 This award-winning bed designed by Chi Wing Lo allows one to choose from various fabric and leather materials with its removable upholstery. The design offers flexibility to meet any bedroom color scheme.
3. Well-balanced Furniture Placement
A balanced design gives off stability and wellness. Bedroom occupants have improved mood and sleep as the room does not exude any instability or lopsided feel.
Strike a good balance among the furniture pieces with varying heights to give more interest to the room. The chosen pieces need not be symmetrical to achieve a balanced modern bedroom design. 
Tall, heavy, and bold furniture has to be balanced out. If you choose a heavily upholstered bed, soften the look with a softer, more petite night table that blends well with the bed. 
Arrange the furniture to complement each other and keep the room neat. Keep in mind the bedroom has to have a free flow of movement and not be filled with furniture pieces.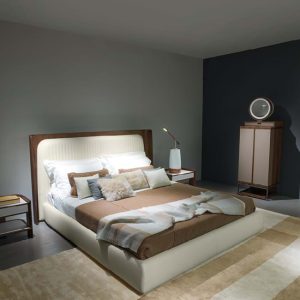 This room has the Giorgetti Hypnos bed flanked by nightstands and a cabinet with minimal details. The additional furnishings only call for attention, giving the room a harmonious feel. 
Make the space feel "just right" with the modern furniture working together. One will feel enveloped in luxury and elegance but offer comfort and relaxation.
In addition, find more reasons to hang out in the bedroom, even during the day. Have a cozy place to sit and read
If your room has space for a sitting area, pick the right chair to fit within the design style. An armchair with an ottoman/footrest calls for taking a break and reading.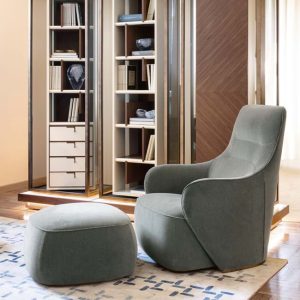 A perfect furniture piece for your bedroom's sitting area is Girlorgetti's Caddy. It comes with a wing chair and stool, great for an afternoon read while resting your feet. 
4. Maximize Lighting Options
Make use of ambient, task, and accent lighting in the bedroom. Consider a mix of overhead, bedside, and floor lights to provide different light sources.
Below are the three kinds of light that one can layer to create the room's ambiance. 
Ambient Light
Natural light from tall or picture windows creates an open feel, a factor of modern design style. This ambient light source is cost-efficient as it allows light to flow freely in the room.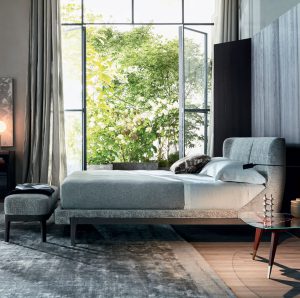 The picture window beside Molteni's Fulham bed adds to the room's peace and relaxation feel. Natural light calls you to rest or read your favorite book on the elegantly designed bed. 
The light from the floor to the ceiling window also lends softness to the bed's wrap-around upholstery. One can choose from Molteni's collection of leather and fabric to match the room's color scheme.
Task Light
Another source of light is task lighting which is for specific activities. One can read on the bed with a night lamp or a floor lamp beside the sitting area. 
Syn, the night table made by Giorgetti, doubles as a night lamp. The table panels made in Canaletto walnut veneer with an integrated LED lamp provide light on your bedside. 
Pieces like Syn keep the room less cluttered, eliminating the need to add a lamp to illuminate the area.  This light does not take up any space on the nightstand, leaving more room to display items or have your personal belongings near the bed.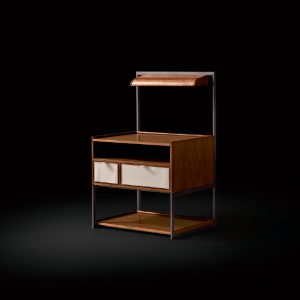 Accent Light
Accent light can be a floor lamp or a statement table lamp. A bedroom can use this light to highlight a specific object or area.
Pendant lights can hang over the nightstand to give a stylish appearance to the room. But it also draws focus on the piece of furniture it is illuminating.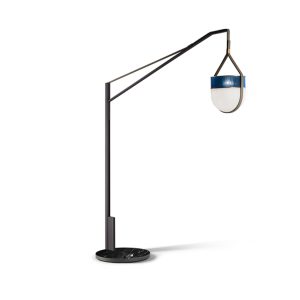 Poltrona Frau's XI lamp, made of blown glass, is a versatile light source. One can choose a floor lamp, a table lamp, or a hanging pendant light.
The combination of glass, natural brass metal base, and leather as a handle or support, is an excellent accent light for a modern bedroom. The XI lamp is adjustable with its on/off dimmer system to create more drama in the room.
5. Keep Things Simple with Natural Materials
Modern furniture pieces chosen for the bedroom should have multifunction to make the room uncluttered. Choose furniture with simple lines that are both functional and aesthetically appealing.  
Furthermore, natural materials such as wood or linen give the room a softer look. These materials make the stark black-and-white combination of a modem room cozier and inviting.
Incorporate natural materials in the bedroom with the use f bedside tables to keep things near you when in bed.  
Molteni has a night table that is a good option with its different heights and diameters. The When night table is made of solid wood with a round top, giving space for displaying a photo or lamp.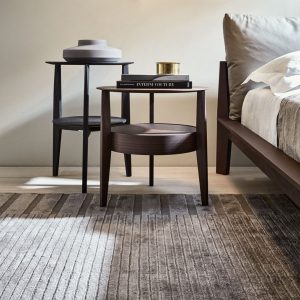 A statement piece of furniture with a touch of wood, simple lines, and opulent textiles goes well with a modern bedroom design.
The Don'do Armchair by Poltrona Frau is a classic that combines wood and leather. Don'do's design is a modern take on a rocking chair with steam-curved solid oak feet in a walnut finish. The upholstery used for a rich textile look is Pelle Frau leather. 
Designed by Jean-Marie Massaud, the rocking chair considers durability with its clean cut and thickness. The shell and armrests are made from molded rigid polyurethane and have a metallic insert as reinforcement. 
If you are looking for comfort, Don'do's headrest cushion is adjustable with a hole-punched belt at the back of the armchair. This furniture design shows off the craftsmanship and perfectly balances the modern look – clean lines and curves with a simple structure and subtle use of leather.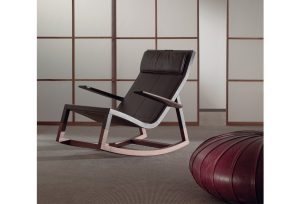 6. Accentuate with Subtle Hues
The modern design follows a neutral color scheme. However, we have seen designs with touches of yellow, red, and blue as accents for a pop of color.
A slight touch of color on the bed, bedside table, or rug can make the room look smooth and warm. But choose a consistent color all around the bedroom – the same shade on pillows and decors ties the room together.
Making the bed or armchair inviting may mean layering it with a plush pillow or luxurious throw covers. A dusty blue or orange shade accent contrasts the neutral-colored furniture and walls.
To wrap up
Modern Bedroom Design is simple and minimalistic. Use the guide – less is more when designing your bedroom.
Sleek and simple furniture, elegant leather or fabric upholstery, and the proper color accent make a modern bedroom design inviting and cozy. Plan well and consistently design the whole bedroom to create harmony and peace.