7 Reasons Why People Love Italian Furniture
When we think of Italy, we immediately conjure up images of its famously delectable cuisines, historical artistry, and antiquated infrastructure. But there's one more thing about Italy that everyone adores: its high-end furniture which has become popular for its excellent quality and timeless, contemporary designs.
From ornately gilded styles to rough, unadorned patterns, Italian furniture is undoubtedly in a class of its own. Not only is it top-quality, but it also adds a luxurious and elegant touch to your home. So, whether your taste leans more toward modern polishes or traditional designs, you will surely never want to miss sprucing up your space with Italian furniture.
But here are more reasons why people love embellishing their homes with Italian furnishings.
It Is A Good Investment
Italian furniture is designed to last, and it does. They are made from the finest materials which can withstand more wear and tear than any other type of furniture. They may be expensive, but their durability and longevity will eventually pay for themselves.
It Gives Your Space An Instant Transformation
Italian furniture is a classy piece on its own, so it's a no-brainer that it can quickly transform a run-of-the-mill space into a haven like no other. It is designed to be a part of an overall interior scheme as it works well with other pieces in your home. So, if you like to change things up on occasion, having Italian home furnishings will allow you to do so without having to worry about re-buying new items every time.
It Has A Timeless Style
Italian designs have been regarded as "the embodiment of elegance and sophistication". But on top of that, these designs are also made to last an eternity. Italian furniture remains in style no matter what era you are in. This is the result of Italian artisans' clever innovation of fusing contemporary taste with a traditional aesthetic.
It Is Endowed With Exquisite Craftsmanship
Italian artisans have a keen eye for detail. If you examine Italian furniture up close, you will notice not a single seam or grain out of place. They are known for their ability to apply classic craftsmanship and smooth modern lines to create polished and spotless designs. These artisans spend long hours of work to perfect their craft and produce pieces beyond average furniture types.
Italy's culture has been ingrained with a high level of accuracy and finesse. It is an essential element in why they excel and has become the standard for creating high-end products. There is no doubt why "Made in Italy" has become a byword for exquisite quality.
It Is One Of A Kind
It has been said many times in this article that Italian furniture stands out from the clutter of mediocre and subpar furniture. This is because it has its own uniqueness that sets its fine artisanship on top of the others.
It provides your space with an elegant, refined, and sleek appearance, which improves not only the mood of the room but anyone who sets foot in it. More than anything, no piece of Italian furniture is similar to another. Every design is delicately made with a unique style to suit your artistic preferences.
It Offers An Extreme Comfort
Cheaper furniture is unlikely to offer the same quality of comfort and satisfaction as compared to Italian furnishings. Low-quality furniture tends to disintegrate over time, especially with the weight and pressure that eventually damage its exterior fabric down to its internal structure.
Once the furniture starts to give out, not only can it not provide you with the proper form you need, but it also robs you of the elegance and appeal you wanted. Alternatively, Italian furniture has a delicate, ethereal construction that, no matter how long you use it, offers complete and pure relaxation.
It Evokes Self-Satisfaction
It always feels good to buy something new, but it feels even better knowing that your purchases live up to your expectations. The same thing can be said about Italian furniture. Its unrivaled quality and its alchemy in adding any space with a sleek, luxurious appearance evoke a self-satisfaction that, just like the furniture itself, lasts a lifetime.
12 Italian Furniture Suggestions To Adorn Your Home
If you're already mulling over the idea of adding flair and luxury to your home, you might want to add these Italian furnishings to your next shopping list.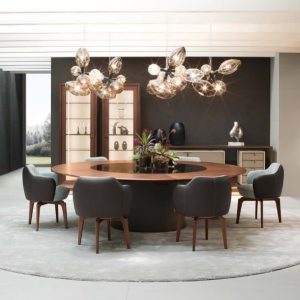 Your home is a reflection of your personality and style, and you don't want to give your guests the wrong impression about you. And what better place to flaunt your exquisite taste than in your dining room? This Fang table from Giorgetti offers materials with a strong personality, intriguing volume, thickness, and contrasts without sacrificing utility and elegance. It comes with a flippable tabletop that allows you to change its design depending on your preference.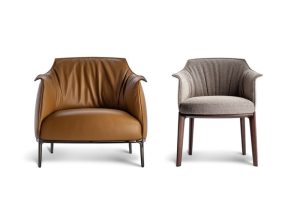 You might also want to add a set of chairs to go with your table. If form and function are what you're looking for, this Archibald dining chair from Poltrona Frau will not only give you that high-caliber quality but will also add more flavors of sophistication to your dining room. Aside from its weight and volume, it also stands out for its sleeker, more relaxed appeal, which makes it particularly eclectic and ideal for both modern spaces and more traditional settings.

If you want to add a touch of medieval elegance to your home while also keeping it modern, this Volare bed from Poltrona Frau awaits a space in your bedroom. It highlights its four-poster structure that gradually thins and lights up toward the top, giving you a magnificent, classical bed to fall into at the end of each day.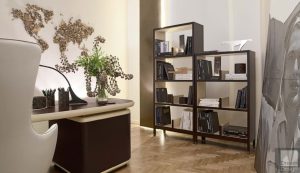 A clutter-free space is the epitome of sophistication, and whether you're a fan of literature or not, a bookcase is one of the best ways to give your home a sense of organization. This Nea bookcase from Giorgetti comes with thick wooden shelves that give off an impression of both lightness and power.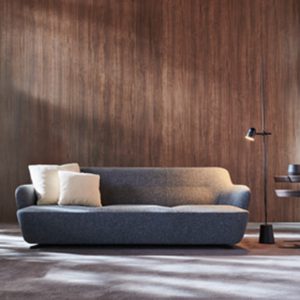 Indulge in the pleasure and comfort of this South Kensington classic sofa from Molteni. It is a multi-purpose seat made from upholstered leather that is ideal for lobbies and lounges.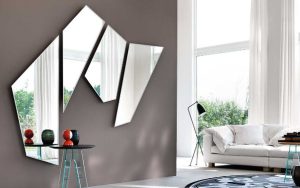 A quick and easy way to fill an empty wall is by putting up a piece of mirror. But this Mirage mirror from FIAM will do more than just take up space in your home. It is designed to turn your place into a work of art through its geometric shapes and cuts. It is a mirror wall that is available in a wide range of sizes and offers customization solutions that will allow you to hang it in any position you desire.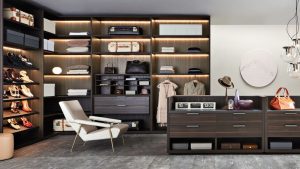 Fashion is more than just about the clothes you wear; it's also about where you wear them. So, step up your walk-in wardrobe with this Gliss Master by Molteni. It is an accessorized walk-in closet that designs its compartments with personalized solutions through its hanging drawer units, extractable trays, shoe shelves, storage compartments, and accessorized drawers.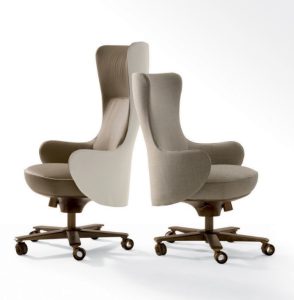 Whether you work from home or in the office, a piece of office furniture that provides extreme comfort is a must-have. This Genius armchair by Giorgetti is constructed with high-quality materials that convey the idea of great comfort, helping you to perform at your best with class and ease.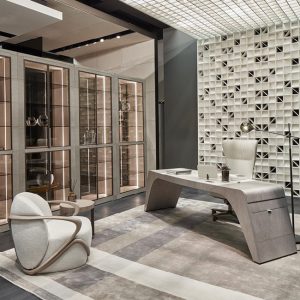 Your furniture has a direct impact on your work productivity. So, if you want to amp up your performance, this Tenet table from Giorgetti might work for you. It has a range of details and accessories to provide you with a flexible, customizable piece of furniture.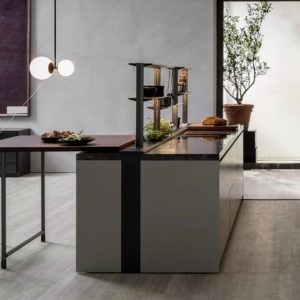 A boring kitchen is just as bad as tasteless food. So, spice up the heart of your home with this XY cabinet from Molteni. Inspired by cartesian coordinates, this kitchen cabinet has a versatile and functional system that can hold a variety of kitchen accessories while remaining accessible to the cook's fingertips.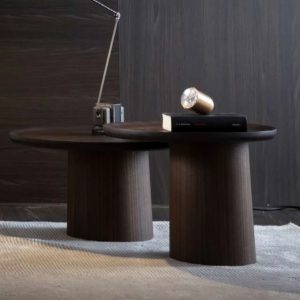 A coffee table might not be an essential piece of furniture in your home, but it will surely add a finishing touch of glamour to your space. And this neutral-colored Louisa coffee table from Molteni might be your living room's cup of tea. It is a set of round and oval coffee tables with different top sizes, in which the presence of both wood and cement creates a striking tactile and aesthetic effect.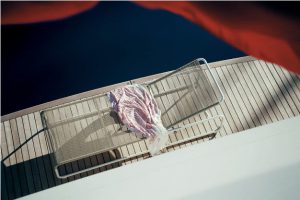 Your exterior house decoration is just as important as your interior design. So, try to spruce up your outdoor space with this HARP 304 sunlounger from RODA. It is reclinable in three positions to allow you to have a relaxing and comfortable sunbathing experience.
CONCLUSION
There is no question why Italian furniture has gained popularity around the world. The excellent craftsmanship, high-quality materials, and design aesthetic that blends modern sensibilities with traditional Italian influences only prove that Italian furniture is in a class by itself. As the famous Gianni Giansanti said, "Italians are well-known for their handmade production of fine quality, high-end luxury furniture."
In the end, if you're in the market for new furniture, it's worth seeking out pieces crafted in Italy. At least then you'll know that they were made by an expert craftsman who not only put his heart and soul into the work at hand but also possessed over a century's worth of training and experience.
If you're now thinking of transforming your home into a place of luxury and elegance, FURNitalia is the perfect place where you can find top-notch Italian home furnishings in the Philippines. It is the country's first-ever top Italian furniture distributor and a luxury store of award-winning furniture.
There are over 30 Italian luxury brand partners that are featured in the three-story Furnitalia showroom in Bonifacio Global City, including Poltrona Frau, Molteni & C, Giorgetti, Fiam Italia, Veblen, and Roda. The large showroom is filled with luxurious options on every level, from traditional to contemporary designs, that are necessary for houses, workplaces, and outdoor settings.