8 Stylish Design Ideas For Your Home
The interior design style always comes into play whether you are building a home, renovating, or refreshing a room. How does one incorporate the different furniture pieces to form a harmonious space?
With the varied design style options – farmhouse, contemporary, Scandinavian, midcentury, industrial, modern, and art deco, it boils down to which best suits your taste and lifestyle.
One popular design style is combining modern and contemporary ideas. With the modern style's minimalist look and the contemporary style's way of adding what works at the moment, one gets an elegant space that is versatile to adapt to changes in the design trend. 
What is modern contemporary style? 
Modern and contemporary elements make a home elegant and stylish without sacrificing comfort. Modern and contemporary styles are often confused as the same, but each has distinct design ideas.
Modern Style
The early to mid-twentieth century is the period considered when modern design flourished. The clean lines style from the Modernist movement reflects simplicity and functionality. 
Earthy tones are the predominant color palette. While common materials used are glass, leather, stone, and wood.
The modern style creates minimalist spaces with sparse decorations. A refreshing change from all the clutter and bright decors of other design styles.  
Contemporary
The 1970s was the period when the contemporary style started and gained popularity. Inspired by Modernist and Post-Modernist designs, it reflects current trends more dynamically. 
In this sense, a contemporary design is more reflective of what is popular at the moment. It constantly evolves and adapts to changes quickly. 
Contemporary home decor is simple yet sophisticated. Like the modern style, it also has a neutral palette but can take in bold and bright colors.
The contemporary design incorporates rounded or curved lines and shapes. Materials employed in this design are more natural – wood overlapping with steel, chrome, and nickel finishes.
A Melding of Two Styles
Modern and contemporary styles complement each other. Mixing straight lines with curved edges makes a piece of furniture inviting to use and relax in. The uncluttered space can also use a few accents to brighten the room.  
People who like modern interiors prefer the minimalist look. But incorporating the contemporary design's fluidity reflects the trends' changes.
In addition, minimalism may seem cold and overly simple. Pairing this style with contemporary furniture or decor softens the space.  
A trend where the modern contemporary style works well is the open-space concept – the kitchen fused with the dining or living room. This concept allows a stylish home to be a welcoming, open, livable space.
Tips to Achieve Modern Contemporary Interiors
How do you incorporate the modern contemporary style into your home? The walls, floor, and furniture are all designed to create a harmonious look.
Here is the essential guide to achieving a modern contemporary interior design for your home:
Combine color and texture
White, black, gray, and neutrals are the color palettes for modern contemporary interiors. Choosing a color palette of at least two colors defines the kind of furniture and decor one can add to the room. 
Think of solid neutral hues when picking upholstered furniture. Remember that textured fabrics such as silk, wool, linen, cotton, and jute also add character and lessen the rigid feel of modern pieces. 
Add also throw pillows with a striking color to break the monotony of the neutrals. Pieces that stand out against neutral hues are good conversation starters.
A gray bed frame like Georgetti's is a focal point in any bedroom. This bed fits the minimalist look with its fabric or leather upholstery and high and low headboard options.
Accents like solid-colored throw pillows or rugs with geometric designs soften the room's look. It exudes coziness even with its simplicity.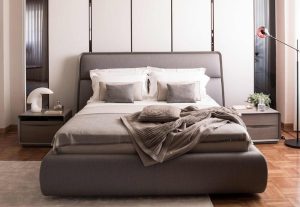 Incorporate Clean Lines 
A modern contemporary house has a minimalist interior design – simple, open, and airy.  Opt for simple furniture with solid tones instead of intricate designs like antique pieces. 
Furniture with simple lines gives off a feeling of calmness. Sofas with minimal and modern designs become the center of the living room. 
Modular or sectional sofas with a neutral color and straight lines add to the clean look of a modern space. A perfect example is Giorgetti's Drive Sofa.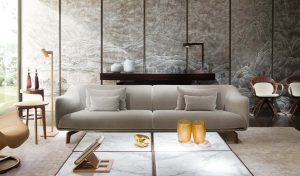 The fabric or leather upholstery softens the steel profile. The goose-down cushions and the curved backrest brings in comfort. At the same time, its solid walnut Canaletto wood with bronze-colored inserts completes the modern contemporary look.
Create an Uncluttered Space
Achieve minimalism with an uncluttered space. Think of well-placed art objects and furniture with minimal details.
A calm and tranquil atmosphere is what one will feel when a room does not have too many details.
Instead of putting an oversized sofa in the living room, go for a smaller sofa to create more space. Add contemporary armchairs to liven up the room.
Poltrona Frau has beautiful armchair designs that go well with a modern contemporary style.
Its Archibald series of leather armchairs with vertical folds on its backrest gives it an elegant appeal. One feels enveloped in comfort sitting on its molded polyurethane foam padding. Added to this is its sleek feet support, bringing simplicity to the design.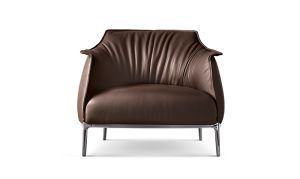 Times Lounge armchair is another Poltrona Frau design with a modern contemporary look. Designed by Spalviere & Del Siotto, this armchair speaks of subtle lines and classic design.
Choose the solid ash frame in Moka or Weng stain to match your style. The armchair cushion made of Pelle Frau leather is welcoming and exudes comfort. 
The Times Lounge armchair, when placed among the furniture pieces in your home, invites people to lounge and read. It's truly a stunning addition to your modern contemporary abode.

Add Decorative Accents
Avoid making your home look ultra modern by adding an accent that adds a pop of color or a conversation-worthy piece. Doing this also adds a little bit of your personality to the space.
Instead of decorating with intricate designs, choose simple yet eye-catching display items to create harmony in a space. 
A mirror, such as Fiam's Christine, is a stunning room feature that helps open up the space. Mounted in different positions, its metal frame and mirror shape add a different perspective to the wall.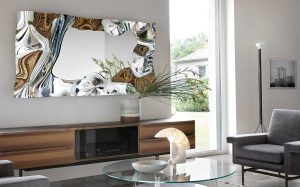 Choose Creative Furniture Designs
Homes with modern-style interiors use a variety of furniture that lends creativity and variation.
A chair with no arms and exposed legs for chairs, sofas, and ottomans are furniture pieces that give off a minimalist look. Their streamlined look gives off a sense of spaciousness in a room.
Furniture with reflective surfaces using glass and metal adds an artistic flair but still maintains the simple lines of modern styles. 
The Echo Cabinet, designed by Fiam Italia, fits into this mold. Choose between a white or volcano gray lacquered wood cabinet. Its tempered glass door adds an aesthetic appeal to any space. 
Adding a textured cabinet that also serves different purposes makes the furniture functional. This Echo cabinet is both decorative and a storage unit – proof of how modern contemporary style is both form and functionality.
Make a Furniture Stand Out
Simple flooring in wood or tile works best for a modern contemporary home. Uncomplicated patterns for the rug or carpet make a piece of neutral-hued furniture the focus of the space.
Surf Sofa is a modular seating system by the Italian brand, Molteni&C. Its distinct features of curved and rounded edges define contemporary style. 
Choose gray, white, or other fabric colors to match your room's interiors. If you're after comfort, it utilizes polyurethane foam for its rounded, slightly protruding backrests.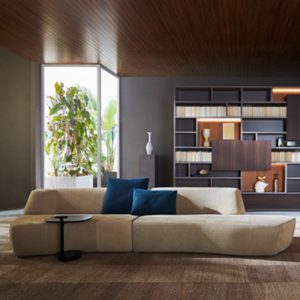 The Surf Sofa combines aesthetics and function, making it ideal in the bedroom or the living room. The configuration of this sofa is flexible, with no backrest corners or with a rectilinear chaise lounge. 
Use Decorative Light Fixtures
The abundance of natural light from picture windows lends a modern look and feel. These windows bring in the outside, which helps add to the natural look of the space.
But when nighttime comes, a lighting fixture brightens the room and gives a decorative accent to the room. It is a beauty that adds a spark to modern space. 
Venini chandelier is a lighting fixture that is an excellent addition to a modern contemporary room. Hand-blown and hand-crafted glass makes this chandelier stand out.
Under the Venini line is the Trilobo series' design that looks like ice stalactites or pendant quartz. This lighting fixture's triangular glass strips and rounded corners fit right into the characteristics of a modern contemporary style. 
Make Use of Versatile Furniture
Multifunctional built-in closets, shelves, and even appliances are a common addition in contemporary homes. Flushed against the wall, it gives more space to move around. 
Reduce clutter with shelves that serve more than just showcasing art pieces. Find built-is with storage spaces to keep the area neat and free from clutter. 
Molteni&C has either floor-standing or resting-on-the-base shelving units designed for contemporary homes. Its Password Evolution units offer solutions for creating elegant display and storage spaces.
Vertical open shelves create subtle display spaces. It can house art pieces or those well-loved books, creating a less cluttered area.
The storage area of the Password Evolution can have a wing or tip-up doors. Another option is the wood or lacquered drawers in gray or wood tones.
Password Evolution also has a built-in wiring compartment to conceal your media system's wires and connections to continue with the clean lines of modern homes.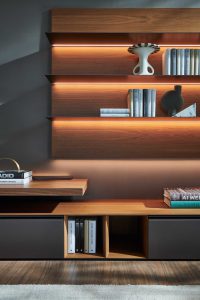 Another versatile piece of furniture is the sofa. Choose a neutral-hued sofa that is both functional and a conversation piece in the living room. 
One such sofa is Poltrona Frau's Let it Be Sofa. It offers comfort as well as flexibility.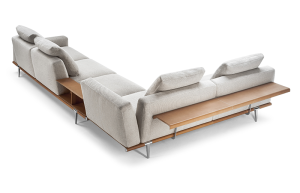 Configuration options for this modular furniture are varied. Added to this, shelves and storage units can be added for more functionality. 
In Conclusion
Trends come and go, and what is popular now may not be accurate in a few months or years. Designing your home has to be guided by your preference and lifestyle.
Think of simple and clean lines when decorating your space to achieve a modern contemporary style. The color palette has to be pleasing to the eye and keep it neutral and solid. 
Beyond its form, we hope the furniture ideas we shared in this article help complete your modern contemporary home. The furniture you choose ultimately has to provide comfort and relaxation.