6 Must-Have Furniture for Your Luxury Home
A luxurious home is more than just its astonishing structure, high-end construction materials, or its vast, exclusive location. It is also defined by its stylish decor and furniture, which take luxury to a whole 'nother level.
Without a doubt, furniture serves as the centerpiece of every home. Not only does it add extra oomph and character to your space, but it also provides you with the ambiance and comfort you want. It is, therefore, highly critical to choose the right pieces of furniture, as they will either make or break your overall interior home design.
WHY CHOOSE LUXURIOUS FURNISHINGS
At first glance, you would not notice the difference between subpar and expensive furniture. You might even end up getting the cheaper alternative so long as it suits your taste or your home's aesthetic. But over time, these pieces of furniture would fall apart and not offer the same level of sophistication that expensive furniture can.
High-end furniture, on the other hand, is made of high-caliber materials that can last a lifetime. They may be expensive, but they will turn out to be a prudent investment over time. If you're looking to bring lasting quality and a sense of flair to your home, it's about time to consider Italian furniture.
WHY BUY ITALIAN HOME FURNITURE
Italian furniture has grown in popularity around the world for its use of high-quality materials and sleek designs that blend modernity with traditional Italian influences. The meticulous craftsmanship that goes into each piece of furniture instantly makes any space ooze with luxury and style. So, here are six essential home furnishings with some Italian furniture suggestions that you will need to give your "home, sweet home," a kick of spice.
1. Sofas
Whether you are in the mood for a movie marathon or quick nap time, your living room is the perfect place to cater to your relaxation activities. However, this multifunctional room would not be the haven you desire without its core foundation—a plush, fancy sofa!
Choosing the best sofa might be an overwhelming decision given the myriad of choices out there. Hence, it is important to narrow down your options based on what will work best for you and your home. Here are Italian furniture suggestions to help you with your sofa selection: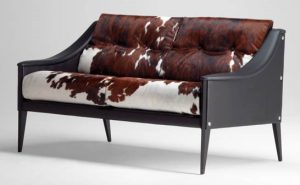 Spruce up your home with this unique sofa from Poltrona Frau. Designed by the renowned Giovanni "Gio" Ponti, the Dezza sofa is reintroduced in a sophisticated new edition that highlights its formal elegance and distinctive style. The sofa's supporting structure is constructed from seasoned beech, and its upholstery is entirely made of Pelle Frau® leather to ensure durability throughout its lifetime. To accentuate its uniqueness, pony skin is used in its seat and backrest cushions and its leg has a distinctively tapered triangular cross-section.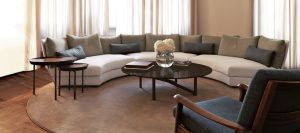 With its asymmetrical shape and proportions, this inventive sofa from Giorgetti will add a touch of eccentric style to your living room. The Dhow sofa, made from removable fabric and leather upholstery, comes in an unusual circle shape to provide you with the freedom you need when arranging your space. It is a modular piece of furniture that can be adjusted or reconfigured yet still maintain its distinctive style.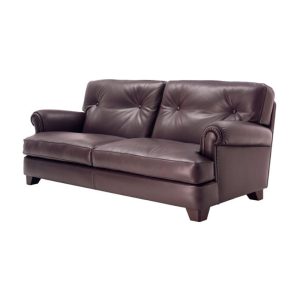 Make your dream living room a reality with this Dream On sofa from Poltrona Frau. It has a classic elegance that boasts lighter proportions and forms to meet more contemporary requirements.
Bonus: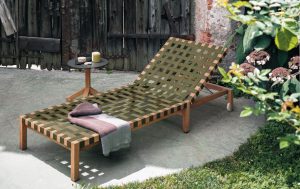 Nothing feels more relaxing than a gentle touch of sunlight and a whiff of fresh air. So, if you want to spend your day in the sun or plunge yourself into a good book outdoors, you will fall in love with this Mistral sofa from Roda. It is structured in solid teak with polyester belts that make it comfortable even without the cushion. You can adjust its backrest depending on the comfort of your taste, as it is reclinable in seven different positions. It also makes it easier for you to move it in the direction of the sun as it comes with two supporting wheels.
2. Dining Tables
Whether it is for a family gathering or a long-awaited reunion with your friends, there is no better place to hold it than at your dining table. Not only is it a place to eat, but it can also be a place where you can socialize, work, study, and many more! It is perhaps the reason why it is deemed the central piece of furniture in your dining room.
All things considered, it is highly important to select a dining table that will not only complement your home's aesthetic but will also be a perfect fit for your palate and space.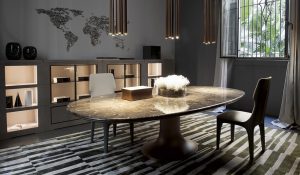 This Mizar dining table from Giorgetti boasts a simple yet elegant physique that will splash your dining room with an asymmetrical effect of tones and colors. It is an oval table with a cast bronze base and a unique Calacatta marble top that is divided into four parts. It also provides superior performance due to its nonstaining and heat-resistant properties. Talking about aesthetics and functionality, this one might be your table of choice.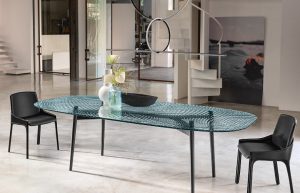 Sink into the beauty of this Coral Beach table from Fiam. It is a three-dimensional textured-glass surface that takes inspiration from the wonders of the ocean. It has an amazing tabletop with a coral-like structure that produces the illusion of movement on glass, similar to ocean waves, by projecting exquisite hues and various inner reflections.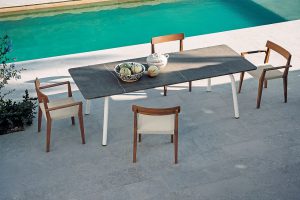 This Travolo table from Roda is light and graceful in appearance, yet extremely stable and robust. It is defined by the fusion of the tubular stainless-steel frame and the stone top, giving your home a rustic industrial style.
3. Dining Chairs
A sleek and stylish dining room includes more than just a magnificent piece of table furniture. You might also want to consider getting a set of lavish chairs to give your dining space a complete, harmonious aesthetic.
The good thing about dining chairs is that they come in various sizes and shapes, allowing you to experiment with them until you achieve the desired look for your home. If you are stuck for ideas, here are some Italian furniture suggestions that you might love.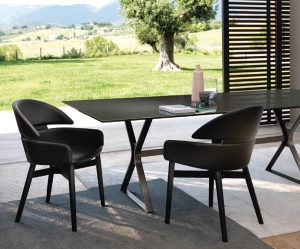 If you believe that beauty should never come at the expense of quality, then this Lloyd chair from Fiam might be just what you're looking for. It stands out for its cutting-edge design, which will instantly add a flicker of sophistication to your space. It also boasts a robust wood frame and leather-upholstered seat and backrest to ensure its durability. In case you're undecided about what color looks best in your dining area, it is available in oak tobacco or open-pore glossy black painted finishes.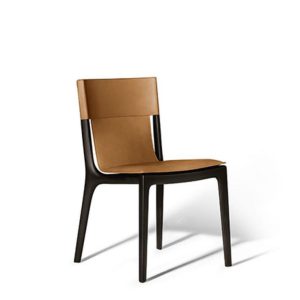 The pioneer of contemporary dance, Isadora Duncan, is the inspiration for this dining chair from Poltrona Frau. It highlights its solid wood structure, which traces out its sinuous and agile design. Through its tailored stitching and cuts that give it a light appearance, the saddle-leather upholstery creates the illusion that it is completely hanging and self-supported. It exudes a light appearance while also giving the impression of solidity. If you're on the hunt for design furniture where the present meets the past, this Isadora project is an attempt to revisit the older forms as part of a highly modern vision.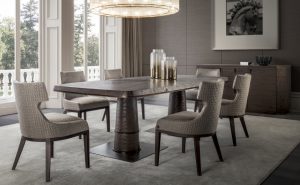 This Kelly chair from Medea Lifestyle highlights a solid wood structure and a patterned cushion that is upholstered with fabric and leather. Its backrest and angled back legs are designed to provide full support and extreme comfort to anyone who sits on them.
4. Bed
There is no better place to be after a long, tiring day than in your bedroom. But without a comfortable and idyllic bed, it's nothing but just another run-of-the-mill space. So, if you are the type of person who loves sinking into the warm embrace of a soft, cushy bed, then you must not sleep on these Italian bed suggestions.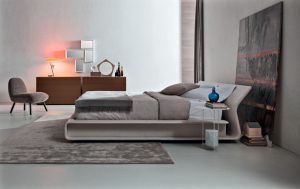 This Clip bed from Molteni proves that elegance in design means high-quality comfort. This bed traces a highly original form similar to a paperclip as its backrest extends along the length of the bed and folds back on itself. The adjustable headboard, which can be placed in several different positions, guarantees the best rest ever. To make things even better, the upholstery is fully replaceable and comes in a variety of materials and leather.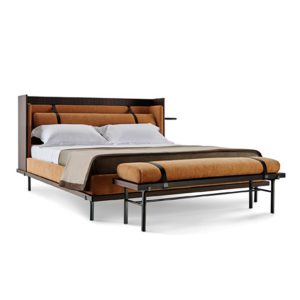 This Twelve A.M. bed from Molteni is typically oriental, with wood as the main material, coupled with metal and soft textiles or leather. The inside of the headboard is lined with soft textiles or monotone leather, and it supports a comfy cushion that serves as a headrest in the center. The cushion is attached to the headboard by two leather straps, emphasizing the designers' attention to detail.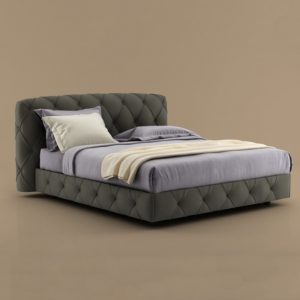 Add a unique flair to your bedroom with this Flair bed from Poltrona Frau. It features its sinuous forms, which are marked by careful, innovative capitonée work that gives its surfaces greater depth and character.
5. Office Furniture
In working remotely, having a pleasant working space is as important as having discipline and effective time management. If you are in search of modern and top-notch office furniture for your home, here are some suggestions to help you out.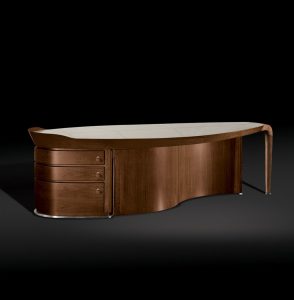 This Erasmo office desk from Giorgetti is an inventive executive desk with fluid and linear lines that produce a unique design and remarkable structure. The work surface melts into a single leg as if it were the nib of a seismograph, gently recording the quakes of conversations. It also comes with a handy sliding shelf and a vast series of drawers with an independent opening system that can be opened 360°.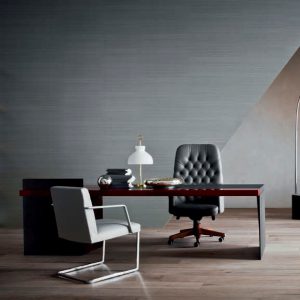 This quilted-treated office chair from Poltrona Frau was designed for folks who like classic, traditional lines. Its design is reminiscent of the high-end chairs found in early twentieth-century English office furniture. It is fully rotatable, with adjustable gas spring height and several fixed settings for reclining.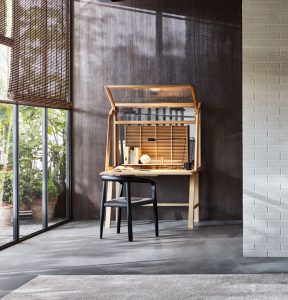 The secret to a successful workplace is a comfortable and alluring space, and this Secretello office desk from Molteni is a revelation. It is a modern workstation-style desk that is both functional and self-sufficient. It modernizes the concept of the secrétaire in conjunction with a glass display cabinet.
6. Bookshelf
Whether you are a book lover or not, a bookshelf is a must-have piece of furniture in your home. It can be used to store not only your books but also your favorite decorations, framed pictures, and other collections. It's a great way to give your home a great sense of organization and style.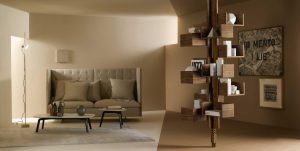 Speaking of style, this Albero bookshelf from Poltrona Frau will give your home a state-of-the-art vibe through its structure and history. It is formally associated with the Neoliberty era and the popular floor-to-ceiling bookshelf systems of the 1950s and 1960s. Its structure is notable for its sophisticated cabinetry and sculptural design system, which features a 360-degree swivel mechanism. To top it all, the Albero has been recognized in "The Top 10 Moments at Milan Design Week" by The New York Times.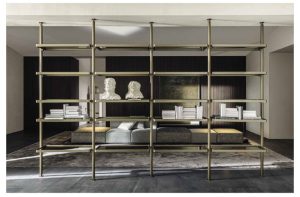 This Hector shelf from Molteni is Vincent Van Duysen's debut in the world of upright modular bookcases. The off-set positioning of the uprights creates a surprising visual effect, which turns Hector from a modern, hi-tech bookcase (with metal finishes and glass) into a more traditional bookcase with a wooden finish.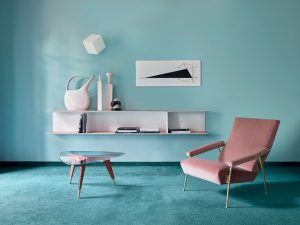 If you want to design your home with a simpler look, this D.355.1 hanging bookcase from Molteni is for you. It is crafted with an elmwood finish and hand-painted in white to bring out its purity and clean ethos.
CONCLUSION:
There is really no place like home. So, whether you're thinking of overhauling your furniture in a room or an entire house, there is no better choice than Italian home furnishings.
At Furnitalia, we offer top-notch furniture from our luxury Italian brand partners, including Poltrona Frau, Molteni & C, Giorgetti, and many more. So, make your home a place of comfort and elegance with Furnitalia.